BUDGET : 350 € per group / PARTICIPANTS : 1 to 8 (depending on conditions) / TIME : 1  day

Maybe the best run of Europe, 100% off-piste, between granitic cliff and huge glaciers : some magnificent slope to ride.
We will climb by cable car to the aiguille du midi, where we will take our time to admire the panorama: the altitude is 3842m, in good weather we can see Mt-Blanc, Grand Combin, Mt-Rose, Matterhorn … Then we will finish to equip ourselves, and it is roped that we will descend the brief part of stopping at the foot of which we will put on the skis. There are several routes to descend the Vallée Blanche, from the simplest to the steepest.
What level of skiing does it take? The length of the descent and the altitude of departure require to be able to ski easily on red track, and if possible to have already skied off the tracks. Indeed, the Vallée Blanche is neither groomed nor marked, and the skiability depends on the quality of the snow, variable from one day to the other.
We will have two options for eating: stop at the famous refuge of the Shark, in the middle of the descent, or picnic on the glacier.
. . . . . . . . . . . . . . . . . . . . . . . . . . . . . . . .
NECESSARY MATERIAL
• your usual ski equipment, but skis wide if a lot of snow
• two pairs of gloves: a warm pair, and a lighter pair
• a backpack on which you can attach your skis
• high protection goggles and a ski mask
• some snacks, 1 liter of water per person
• sunscreen etc …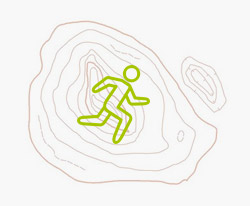 Être bien préparé physiquement, c'est une des clés de la réussite d'une course.
Consultez notre page Training, nous avons réuni des conseils et astuces pour optimiser votre préparation