BUDGET : 4390 € par personne (base de 6 personnes) / PARTICIPANTS : 8 / DURÉE : 13 JOURS
Est il de terre plus sauvage que ce côté du monde, entre Volcan actif et Océan… Une authenticité retrouvé pour des randonnées guidées par un spécialiste des volcans francophone et un guide de haute montagne français. Une équipe de pilotes de ski-doo et une cuisinière russe composent l'équipe qui vous propose de vous emmener glisser sous de nouveaux horizons.
DATE
From 9 to 21 of May 2017
Time 13 days with 11 days of ski
Accomodation hotel and mountain hute
Pro High mountain guide UIAGM and a local guide
Nombers of Riders :  8 riders
Difficulty :  Bon niveau de ski
Intensity :  ***
Confort :  **
. . . . . . . . . . . . . . . . . . . . . . . . . . . . . . . .
Program
This Programation can be adapted with conditions and weather forecast.
Day 1 Flight from Europe – Moscow – Petropavlovsk
Day 2 In Petropavlovsk, we'll get installed in our base, departure point. Hot sping outside of our guest house.
Day 3 Departure for the Goreli and Mutnovski volcanos, 50 km away. Will be sometime tracted behind skidoos, sometime on a musher sledge with dogs. Then will put the skis on to reach a pass, between tundras and snow fields.
Day 4 Ski touring departure for the ascent of Mutnovski volcano (alt 2324m, pos ascent 1470m, distance 10km). Ski touring inside of the volcano cratere. Around here an unreal atmosphere of volcano and snow world… coming back to the mountain hute.
Day 5 Ascent of the Goreli Volcano (alt 1829m, positiv ascent 800m, distance 10km), observation of his activitie, riding around his different cratere. A long run don drive us to our mountain hute.Night here.
Day 6 Nice ski tour around the volcano cratere of the Mutnovski. A very long ski run drive us down to the smoking area on the outside part of this volcano. Pic Nic on the side of the volcano lake, close from sulfarates and small mud volcaos.
Day 7 Safety day, in case of bad weather. We'll make a new ski touring if the weather is nice.
Day 8 We'll start again, tracted by skidoos, on the way to the next lodge. On the way , we'll make a smll ascent and a nice ski down to the botom of Vilioutchinsk. Night on a mountain hute.
Day 9 Really early in the morning we'll strart touring to the Vilioutchinsk volcano (alt 2173m, 1960 positiv ascent, 9km disctance). If the snow conditions are good, the final ascent need crampons and ice ixe on a narrow coridor of 50m.
An exeptionel panorama will wait for us at the top, with a Pacific océan view and all the volcanos around. The skiing down part is prety steep at the begining, on hard snow, then will be opening on wild snow fields. At the botom, the skidoos will wait for us to bring us back to the departure base. Hot natural springs on the side of it.
Day 10 After breackfast, departure in 4×4 wheel drive to reach our next playground area : Koriakski (3456m) and the Avatcha, that will reach in the afternoon by ski and skidoos. Night in a mountain hute.
Day 11 Early departure from the hute for a 6h00 hours ascent of the Avatha (2741m, 9km distance, 1650m+). A big somital eruption has destroy a part of the top, and made place to a big caldera, in the botom of wich a huge cone formed. Our route drives us in magnificent combs and then the sides of this caldera. With ski crampons or crampons, we'll reach the easy top, in front of the pacific ocean. After a wild moment at the top watching those volcanos particularities, long ski down to the hute, where a bania (russan sauna) will wait for us. Night in group room in the hute, rooms of 2,4 or 6.
Day 12 The Koriakski, 3456m, active volcano, for wich the last eruption was in 2012. His ascent need rope crampons and ice-axe. The skis will bring us to 3000m. The total ascent is 2200m. Night in hute.
Day 13 Ski down to the cars, return to Petropavlovsk. Lunch and town tour. Night in hotel
Day 14 Departure day, flight back.
. . . . . . . . . . . . . . . . . . . . . . . . . . . . . . . .
PRIX
3150 EUR per person on a base of 6 persons
The prices shown are only valid for certain booking classes on airlines serving this destination. They may therefore be modified in the event of unavailability of seats in these classes at the time of booking.
Including :
fly to Moscow + fly to Petropavlovsk
Transport in 4×4 car and truck
skidoos transport
hotel-airport transfert
all food exept lunch in Petropavlovsk
invitation for the Russan Visa and registration fees
the volcano guide, translator
2 skidoos dirvers
1 cooker
high mountain guide
Satelite mobile, gps, radios
Not included in the price :
optionnal héliski
extra drincks such as alcool
personnal fees
food in Petropavlovsk (Day 13)
. . . . . . . . . . . . . . . . . . . . . . . . . . . . . . . .
INFORMATIONS TECHNIQUES DU VOYAGE
Team
1  local guide, 1 guide UIAGM (seb cazorla), 1 cooker,  2 ski doos drivers with pulka for the all trip
CONDITION ON THE ROAD
For the road, we will have 4×4. between hute to hute, will be ski doos tracted if there is too much snow, or we'll take the 4×4 trucks.
 Moutnosvki mountain hute :Rustic and very little used in winter. Housing in a large room heated by a stove.
Sleeping is done on boards and requires an inflatable mattress and a very good sleeping bag.
Avatcha mountain hute :
Comfortable and heated, rooms 4 and 6, possibility to order a bania (Russian sauna)
Under tent camp: if the weather forecast is ok. Small warming system.
Food : Simple russian cooking, adapted to sport efforts.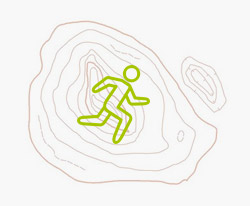 Être bien préparé physiquement, c'est une des clés de la réussite d'une course.
Consultez notre page Training, nous avons réuni des conseils et astuces pour optimiser votre préparation